1. Introduction Mitsubish i Electric Corporation has introduced a new CNC, the MITSUBISH I CNC C70, which supports the integrated platform and enables high-speed data refresh by incorporating a high-speed bus into MELSEC Q Series's main base. The C70 is highly compatible with the diverse range of Mitsubish i FA product lines that boost the efficiency and performance of production systems. This excellent compatibility as well as its dramatically enhanced processing capacity make the C70 the most suitable CNC for production lines in the auto industry.

2. Background of C70 Development Overall cost reduction is a top priority for automobile engine manufacturers when constructing lines for components such as cylinder heads, cylinder blocks, crankshafts and gearbox casings. To meet their needs, coordination with adjacent processes is critical, in addition to minimizing individual processing time. Therefore, a CNC for line control must offer not only numerical control but also sophisticated sequence control. Although these demands have been met with the C6/C64 Series so far, the control speed and connectivity with other FA products need to be improved further. In response, Mitsubish i has launched the CNC C70 which supports the new integrated platform, by incorporating a high-speed bus into MELSEC Q Series'smain base to achieve faster data refresh among CPUs. In line with Mitsubish i Integrated FA Solution "e-F@ctory" concept for optimizing total factory processes, the C70 is designed to work with a range of FA products that raise the efficiency and performance of manufacturing systems and to incorporate far greater processing capabilities. These features make the C70 ideal for line control.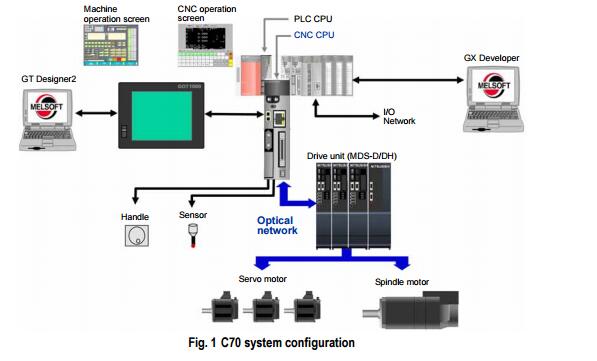 3. C70 Overview As the C70 is a CNC to be mounted on Mitsubish i PLC MELSEC's platform, the product concept is entirely different from that of existing CNCs. The C70 consists of multiple CPUs, including a PLC CPU for sequence control and a CNC CPU for numerical control. Peripheral units of the MELSEC-Q Series, such as an I/O (Input/Output) and network modules, can work directly with the C70. This unification of CNC with PLC helps compatibility with a variety of networks as well as Mitsubish i Integrated FA Solution. Compatibility with MELSEC has been improved by adopting the GOT1000 Series display unit. In addition, a screen creation package, GT Designer2, facilitates machine operation panel functions. This tool enables both machine panel and NC screen functions to be handled with a single display unit. Figure 1 shows the C70's system configuration.

4. Enhanced Compatibility with PLC A newly developed, high-speed PLC CPU functions as the C70's sequence controller, delivering world-leading sequence performance, and which can be used together with diverse MELSEC Q Series units. Three types of PLC CPU are available in the lineup, which can be selecte d to meet the user's scale of control system, such as program size and performance level. Users can easily construct the best solution for their production facilities by combining these CPUs with other units (see Fig. 2). A programming package for MELSEC PLC, GX Developer, is available for creating PLC programs, which can offer the same programming environment as MELSEC Q Series.

5. Display Module To reduce space while enhancing the operability of facilities, automakers need a touch panel that can serve as both a machine operation screen and as a CNC operation screen. The GOT1000 Series as the C70's display module satisfies this need. The GOT1000 Series line ranges from a compact 3.7" size up to a wide 15" size at XGA resolution. The CNC monitor (Fig. 3), which functions as a CNC operation screen, can be installed in 10.4", 12.1" and 15" type GT15 monitors with SVGA or higher resolution, which will work as the machine's main operation panel. Other smaller monitors can be used as sub operation panels. A GOT, which functions as the main operattion panel, is directly connected to the dedicated interface on the CNC CPU module (via Ethernet), ensuring rapid CNC screen display regardless of the PLC CPU throughput.

6. Smaller Size Designed to fit in a slot of the MELSEC main base, the C70's CNC CPU module is among the world's smallest, with palm-size dimensions of just 98 mm in height, 27.4 mm in width and 119.3 mm in depth. Almost all CNC functions except for the power supply and sequence control are packed within these dimensions. Moreover, CNC capability has been more than doubled compared with the previous CNC. This performance uplift as well as downsizing have resulted from some of our new developments, such as a high-speed RISC CPU with built-in second cache memory, a new high-speed, high-integration ASIC that embodies Mitsubish i's cutting-edge computer technologies, DDR memory control, high-speed access to peripheral buses using built-in ASIC's 4-layer read/write queues, and efficient use of DMA. Despite this downsizing and performance increase, overheating is not a concern. All the primary chips run at a low core voltage (between 1.2 and 2.5 V) and the circuit consumes little power due to its environmentally friendly design.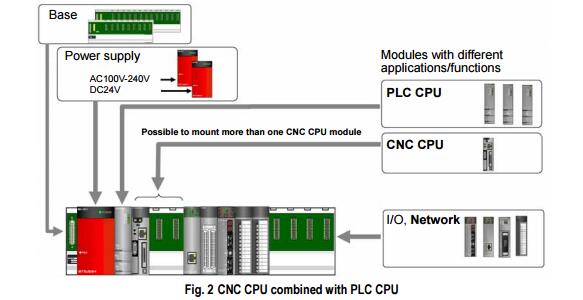 7. Shorter Tact Time A machine tool is equipped with various auxiliary devices, as well as servo axes that act as its fundamental mechanism. As the motions of these devices are controlled by ladder programs, better ladder performance can directly reduce the tact time. Combined with a high-speed PLC CPU and incorporating a high-speed multi-CPU bus into the base unit, the C70 has much greater capability. For instance, the ladder scan time is now 20 to 30 times faster and M code processing is 3 to 5 times faster than the previous C6/C64 Series, thus reducing tact time. Furthermore, its capability of processing machining program blocks has been doubled compared with the C6/C64 Series.

8. Safety Observation Function In response to growing demands for safety, we have incorporated a safety signal observation function into the C70, in addition to the existing speed observation function supported by the Mitsubish i CNC 700 Series. This existing speed observation function ensures safe machine operation even while the machine's protection door is kept open. To use this function, the door's state signals have to be input to both the CNC CPU module and drive module. Then each module monitors the signals through two different routes. When the door is open, the machine is allowed to operate at a predetermined safe speed. Similarly, motor speed is observed by a drive aaa module and CNC CPU module through two different routes. If either module detects a motor rotating at a speed exceeding the predetermined safe speed, the motor will be immediately commanded to decelerate, and will stop and enter the power-shutdown state. When the door's state signals input via two different routes do not match each other, the motor will decelerate, stop and enter the power-shutdown state. In this way, the speed observation function ensures a safe machine setup even without closing the door. Moreover, a new safety signal observation function allows both the CNC CPU module and PLC CPU module to monitor safety signals such as a light curtain signal that are input/output to/from both modules via two different routes, in addition to the door's state signals. With this new function, CNC CPU and PLC CPU can monitor the signals via two different routes. As soon as either CPU detects any signal mismatch, the motor will decelerate, stop and enter the power-shutdown state. The safety signal observation function allows this type of safety system configuration to be provided without costly safe relays, whereas previously it was possible only with special hardware. This significantly reduces machine cost. In conclusion, the C70 allows devices to be used flexibly according to each environment. The C70 has tremendous potential to be used on not only automobile engine manufacturing lines but other sites where CNC has not yet been installed.